Aloha and Welcome to Proteas of Hawaii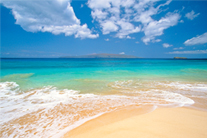 We are pleased to offer you our quality grown, freshly harvested protea. Our selection of fabulous protea floral products, are packed with care and express shipped direct from our farms to your door. We believe that our protea blooms are as much a part of Hawaii as the clear blue skies and white sand beaches, lush valleys and mountains, ideal climate and warm spirit of its people. Every occasion deserves protea and our island blossoms turn any moment into an occasion. Proudly grown in Hawaii, these fresh-picked protea can arrive within 2 days of most ordering. 100% satisfaction and freshness guaranteed. Proteas of Hawaii is located on the slopes of the dormant volcano Haleakala in the cool east Maui uplands. We are the standard setter for reliability and service, and our goals remain constant: to please our customers and to continue to create and innovate with nature's bounty. We are proud of our product and we guarantee it!
Flowers are seasonal and may require substitution. Also, your flowers may be exposed to extreme weather or our carrier may experience shipping delays, which may delay your delivery beyond the date you provide. Please keep this in mind when selecting your desired delivery date. We appreciate your patience as we work to get your package to you as quickly and safely as possible.
You can check available delivery dates by clicking on the link below.
Click Here to Open the Delivery Calendar
---